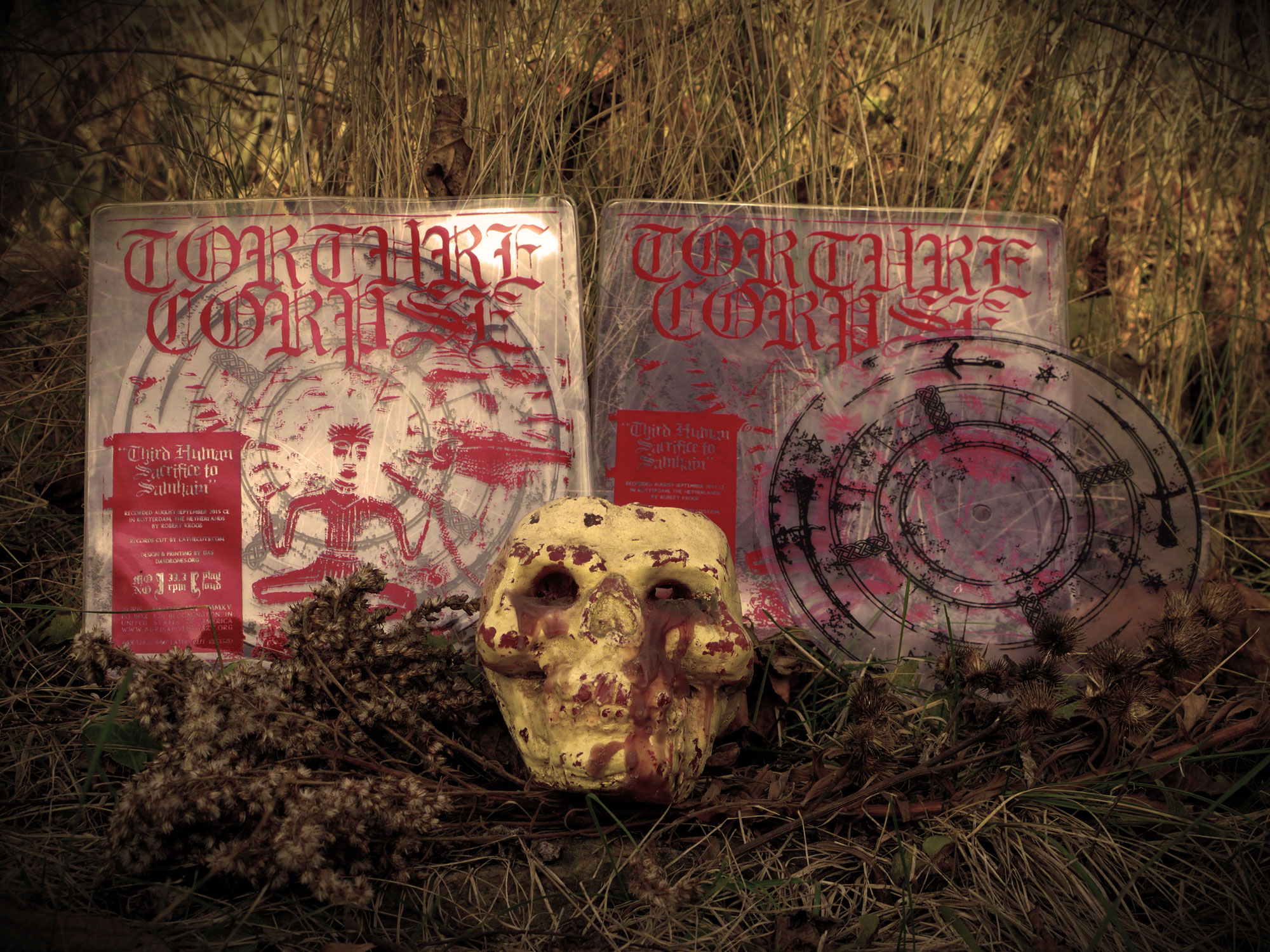 Third Human Sacrifice to Samhain
---
Released November 01, 2015
sold-out
DIGITAL
Info
Third Human Sacrifice to Samhain is exactly what it sounds like: a bleak and unholy audio ritual in honor of Samhain from the Netherlands' TORTURE CORPSE, master of filthy atmospheres and scathing sonic assaults. THStS exists as an audio accompaniment to the ancient pagan holiday celebrating the end of the harvest year through bonfires and slaughter of animals and humans alike. TORTURE CORPSE'S signature harsh buzzing is present, yet reserved, and serves as a droning foundation before blasphemous incantations in a foreign tongue appear over top, inciting the climactic end.
Clocking in at slightly under 5 minutes, THStS is a short & lo-fi but poignant single cut onto 6.66" (seriously, measure it) clear polycarbonate lathe cut records and screen-printed with imagery to guide you in your own Samhain rituals.
PLAY FUCKING LOUD.
Notice: Due to the hand-made nature of lathe cut records, the fidelity & consistency of each copy will vary slightly. An assortment of audio ailments such as dropouts, warble, pitch-bending, static, crackle, hiss & extreme frequency shifting are to be expected, and all flaws which may arise are entirely condoned as adding cohesion to the release concept.
Packaging
- One-sided 6.66" circle lathe cut polycarbonate record
- Screen-printed B-side artwork in black ink
- Clear picture disc sleeve with red screen-printed art
- Sealed in resealable poly bag
Tracklisting
A1 – 04:41 – Third Human Sacrifice to Samhain
Audio