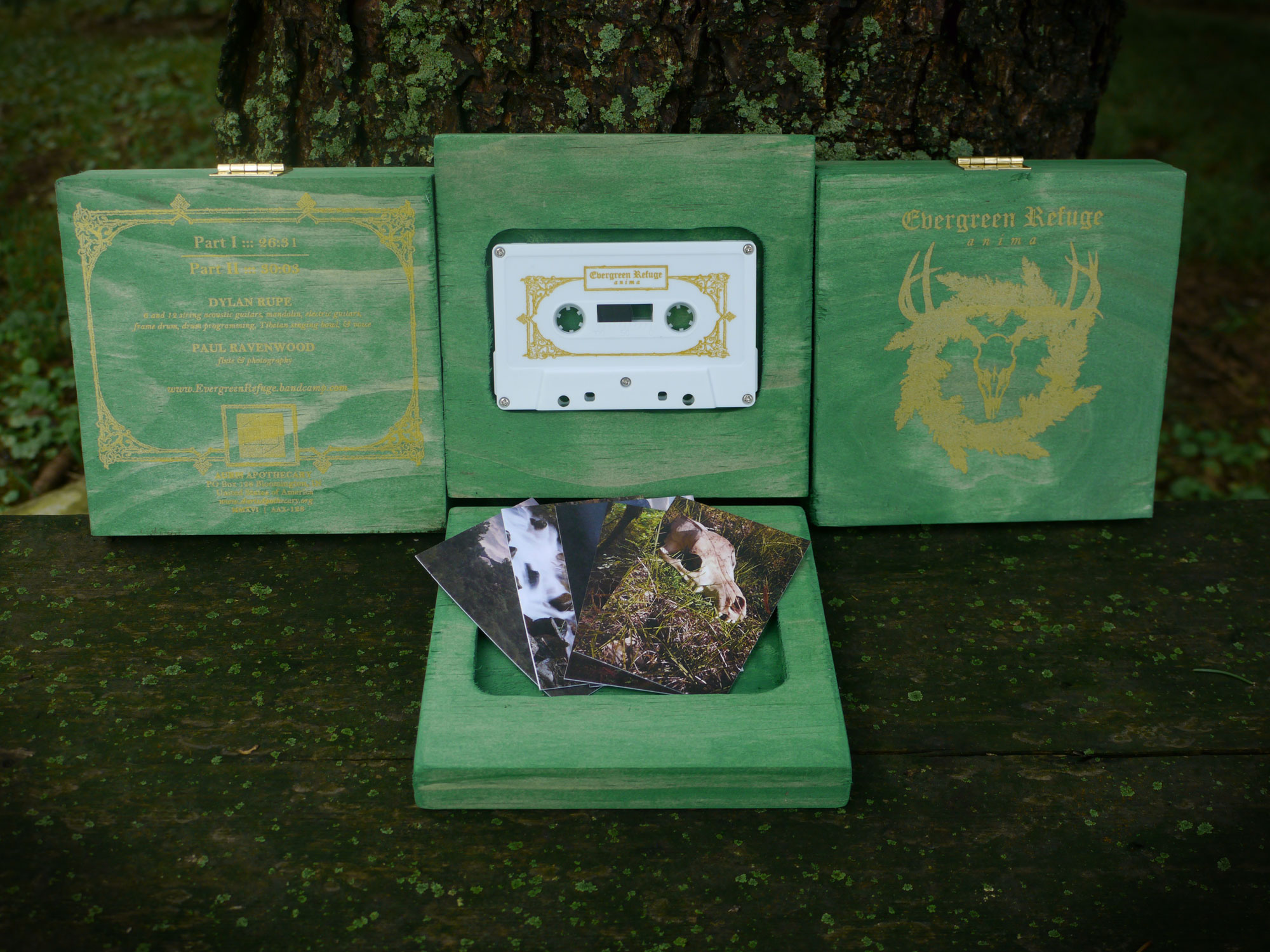 Info
When we first heard the music of EVERGREEN REFUGE, we were immediately moved by the transcendent nature of his approach and message of Eco-awareness and respect for the Earth at the forefront. Anima, his newest opus, presents a single track that seamlessly crosses from beautiful and introspective folk to buzzing black metal for nearly an hour (split tastefully for the cassette). Fully embracing the spirit of his Colorado locale, EVERGREEN REFUGE channels the majesty of mountain ranges, dense forests, babbling streams, and untainted wildlife in his compositions, with an aesthetic that balances open, airy passages of acoustic guitar and percussion with the dense, distorted tones of epic chord progressions. What EVERGREEN REFUGE lacks in technicality, he makes up for in soulful strums, haunting choral melodies, and a unique plethora of instruments both electric and acoustic. This recording features 6 and 12 string acoustic guitars, mandolin, frame drum, Tibetan Singing bowl, flute, drum programming, voice, and electric guitar blending together to form an honest and sincere symphony in reverence to nature.
To match the grandeur of EVERGREEN REFUGE's sounds, Anima is housed inside a rustic homemade wooden box designed from 2 solid pieces of premium wood - routed out, sanded, stained with a soft green tint, and screen printed by hand in beautiful golden ink. The two sides are attached by a single brass hinge, and inside are the cassette and full color inserts of photographs taken by Patrick Yarbrough.
NOTICE: Due to the handmade nature of these boxes, each one will vary slightly in stain coloration, size, smoothness, print, and/or fit. We ask for your understanding in the random potential for getting a "not as beautiful" copy.
Packaging
– Handmade wooden boxes with green stain
– Gold screen-printed art on front & back
– Full color miniature photo inserts
– White Pro-duplicated Type II cobalt cassettes with gold imprinting
Tracklisting
A1 – 26:31 – Part I
B1 – 30:03 –Part I
Audio
Video