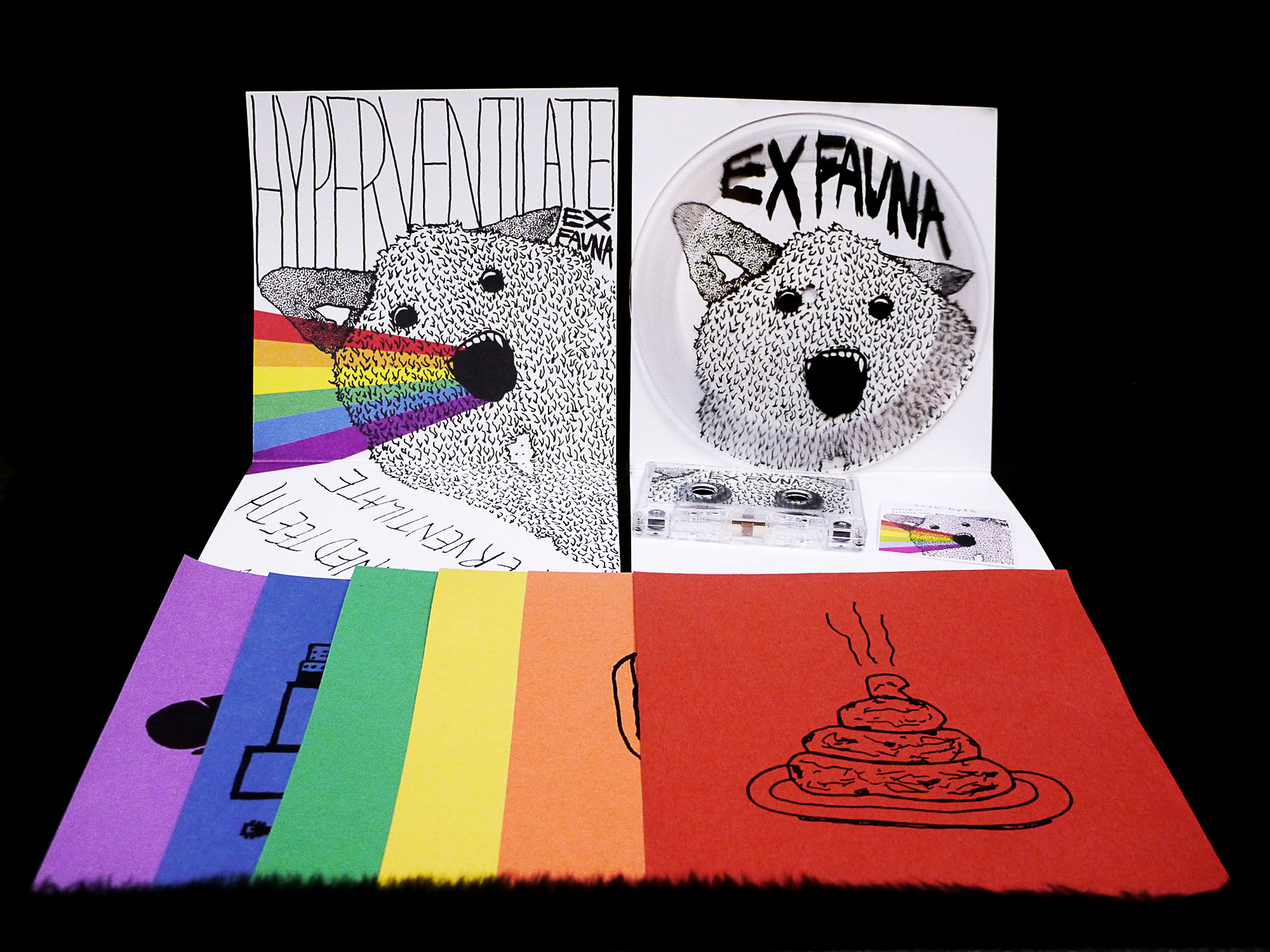 Info
Last July, after screen-printing countless t-shirts and other ephemera all day, JH (of Humans / Buttonhoof / Nice Piles) and BW (of Gnaw Bone / Hail Architeuthis!) ventured next door to the Artifex Guild to test out some new guitar pedals. At some point, BW sat down to a drum set for the first time in his life, and an hour later, a song was written. Feeding off of the spontaneity of the situation, it was decided they would write and record an entire EP before JH moved to Chicago in August. Within 1 month, 4 songs were written, the music was recorded live in a tiny room, vocals were laid down, and Hyperventilate! was finished. Unfortunately, JH moved before a show or release could happen, but nearly a year later, EX FAUNA have returned to finally launch their project.
Hyperventilate! is as short as it is weird, clocking in at only 4 minutes long (exactly) but covering an insane amount of territory in that time-span. From the first notes of the opening track Old Friend, EX FAUNA establish a pattern of spastic intensity aided by the dual vocal assault and distortion filled riffs that hark to JH's past projects while also showing an evolution in ferocity. The elementary yet bombastic nature of EX FAUNA's drumming is a perfect balance to the complicated guitar work, opting for repetitive pummeling bursts in place of technicality. Throughout Hyperventilate!, EX FAUNA exhibit their penchant for absurd lyrical concepts and disgusting imagery, including such nauseating ideas as the track "Shit-Stained Teeth," or the entirely-too-descriptive phrases from the title track Hyperventilate: "fingers skin peeling from the bone, eyeballs hanging from their sockets, tongues ripped down the middle, eardrums with blood pouring from them."
EX FAUNA's debut is odd and abrasive, but also manages to capture a visceral potency fueled by an impulsive desire to compose music as quickly as possible. Too heavy to be punk but too spastic to be metal, Hyperventilate! is noisy, juvenile, off-the-wall outbursts of overblown weirdness compressed into a single serving of chaos.
NOTICE: Although technically a lathe cut, the vinyl edition has been cut in ultra hi-fi stereo using a deluxe machine onto high quality blanks, and is comparable in quality and fidelity to a legitimate pressed record.
Packaging
7" foldover sleeve printed on 100lb matte white paper
6x double-sided b/w inserts on rainbow colored cardstock
Full color download card
VINYL: one-sided clear 7" lathe cut in hi-fi stereo
CASSETTE: Transparent shell cassette with b/w clear label
Tracklisting
VINYL A1 - 01:00 - Old Friend
VINYL A2 - 02:00 - Shit-Stained Teeth
VINYL A3 - 01:00 - Hyperventilate
CASSETTE A1 - 01:00 - Old Friend
CASSETTE A2 - 02:00 - Shit-Stained Teeth
CASSETTE B1 - 01:00 - Hyperventilate
CASSETTE B2 - 01:00 - Hyperventilate
CASSETTE B3 - 01:00 - Hyperventilate
Audio