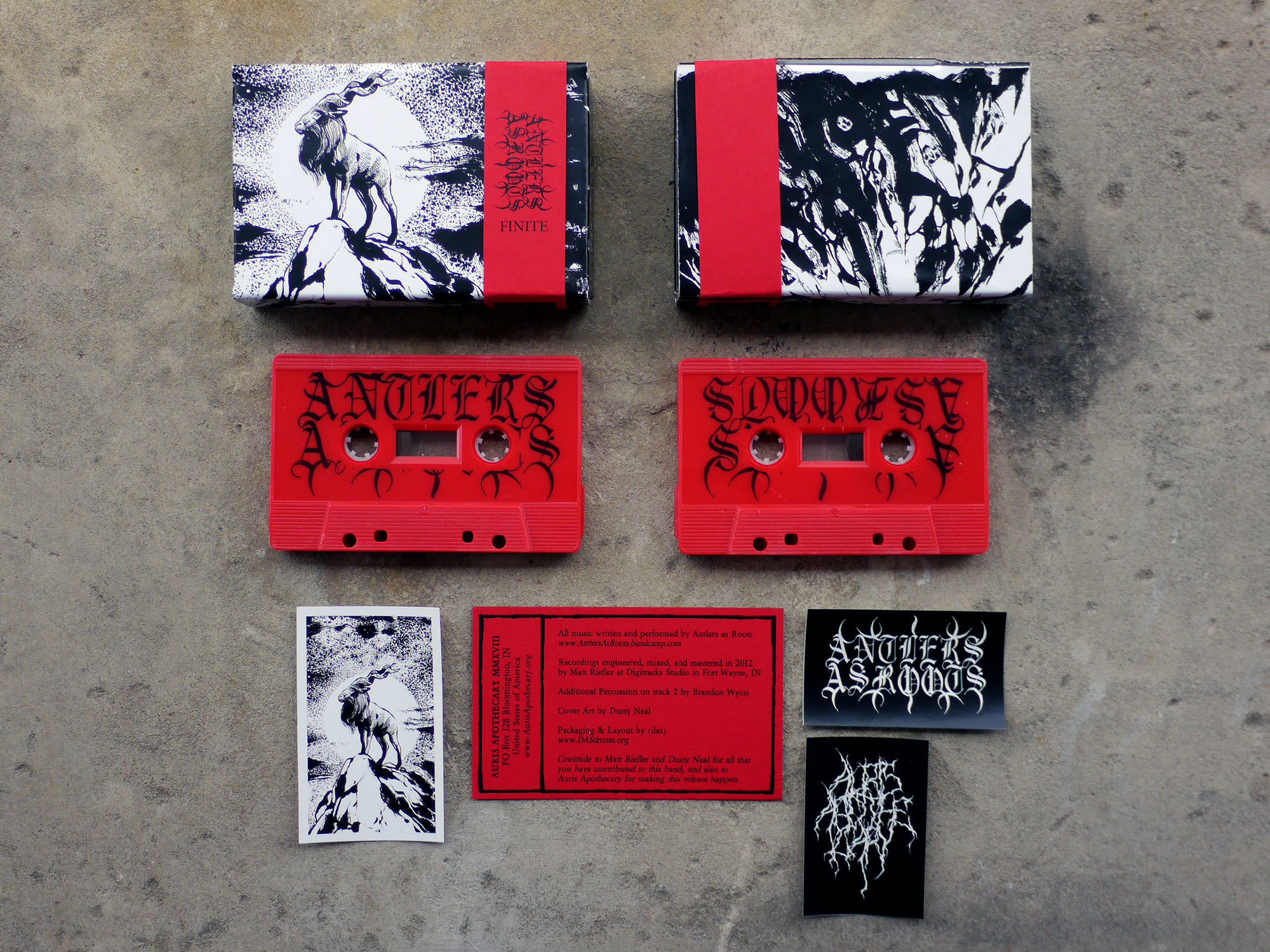 INFO
ANTLERS AS ROOTS manifested in 2012 in the landscapes of Northern Indiana via the coalescing of multiple like-minded individuals. Although their existence was short and their output minimal, the project was a potent formula that yielded exemplary results, and the group remained on hiatus, never succumbing to dissolution. Auris Apothecary has quietly followed ANTLERS AS ROOTS over the years, always hoping for new material or some murmur of activity. When we finally reached out to speak about reissuing their debut EP on cassette, we were ecstatic to hear that the project had started turning the gears once again, and new sounds would be coming in the future.
Thus, we are pleased to present the debut EP from ANTLERS AS ROOTS in physical form for the first time ever, a 3-track compendium of atmospheric black metal that is epic and transcendental, coasting between explosions of blast beats and ever-building distortion to blossoming passages of melodic, delay-filled dirges. The tones are at times uplifting and ethereal, yet there is a fog of darkness and rhythmic intensity that permeates the material to create a well-balanced dynamic of hope and despair simultaneously. Totaling almost 23 minutes across only 3 tracks, Finite doles out long-form compositions with complex musical narratives, and rewards focused listeners with its rich atmosphere and sense of finality.
Features incredibly awesome artwork by Dusty Neal.
PACKAGING
Fold-out Cardboard Box
Black & white glossy wraparound art
Double-sided insert on red cardstock
Red pro-duplicated cassette with black imprinting
3x black and white stickers
Download card
TRACKLISTING
A1 – 06:50 – I
A2 – 06:27 – II
B1 – 09:33 – III
Audio
Video