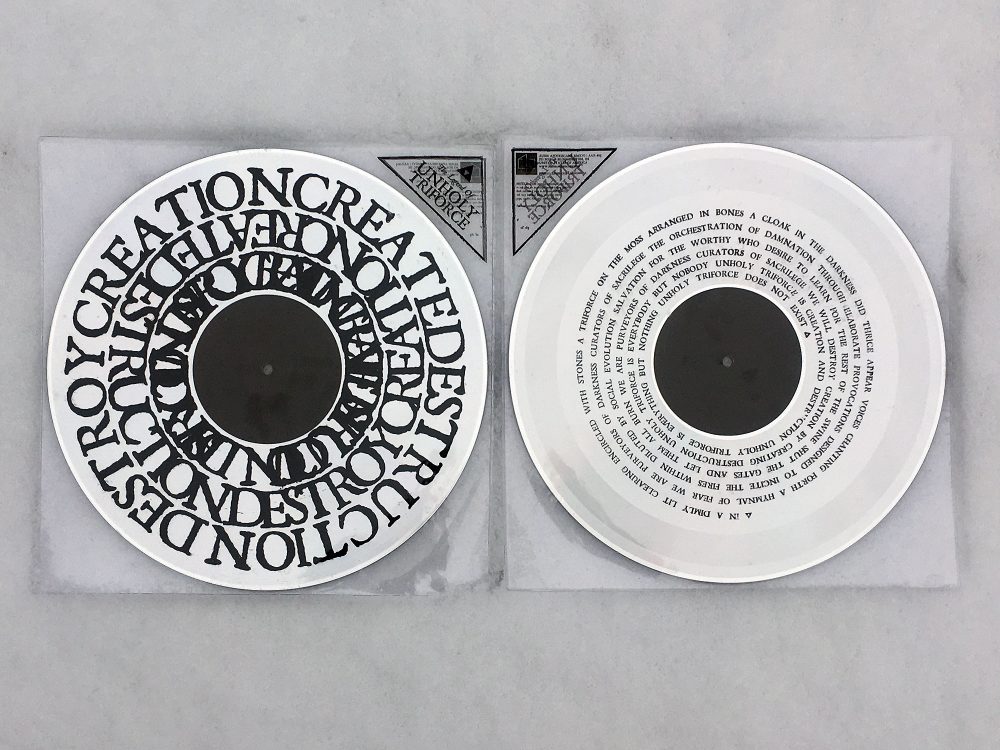 In the beginning, there was darkness. From that darkness, UNHOLY TRIFORCE manifested.
The Legend of Unholy Triforce is a quasi-codex translated through audio waveforms physically cut into the shimmering surface of recycled laserdiscs, each containing an original visual document which has been rendered useless by the transformative nature of the new content.
Featuring 3 locked grooves on the A side and a single unsettling track on the reverse, TLoUT is the most straightforward proclamation by UNHOLY TRIFORCE since their inception, yet it remains shrouded in their trademark mystery and total lack of conventions. Pounding timpani and hellish horns create an abrasive rhythm while an inhuman voice recites the prose imprinted onto the medium, detailing the mythos and origins of UNHOLY TRIFORCE as both an entity and an idea. Cut in mono at 33.3 revolutions per minute using an antique machine, TLoUT is simultaneously low-fidelity and high impact, with a pervasive dissonance and grinding tension that seeks to overwhelm the listener until the very last second.
No audio samples. No promo video. This is an artifact which must be experienced in person.
---
In addition, information has been posted regarding three of the newest upcoming releases on their respective pages:
---
We've also decided to continue our Free T-Shirt Special:
Simply mention in the Paypal checkout notes the design and size you desire.