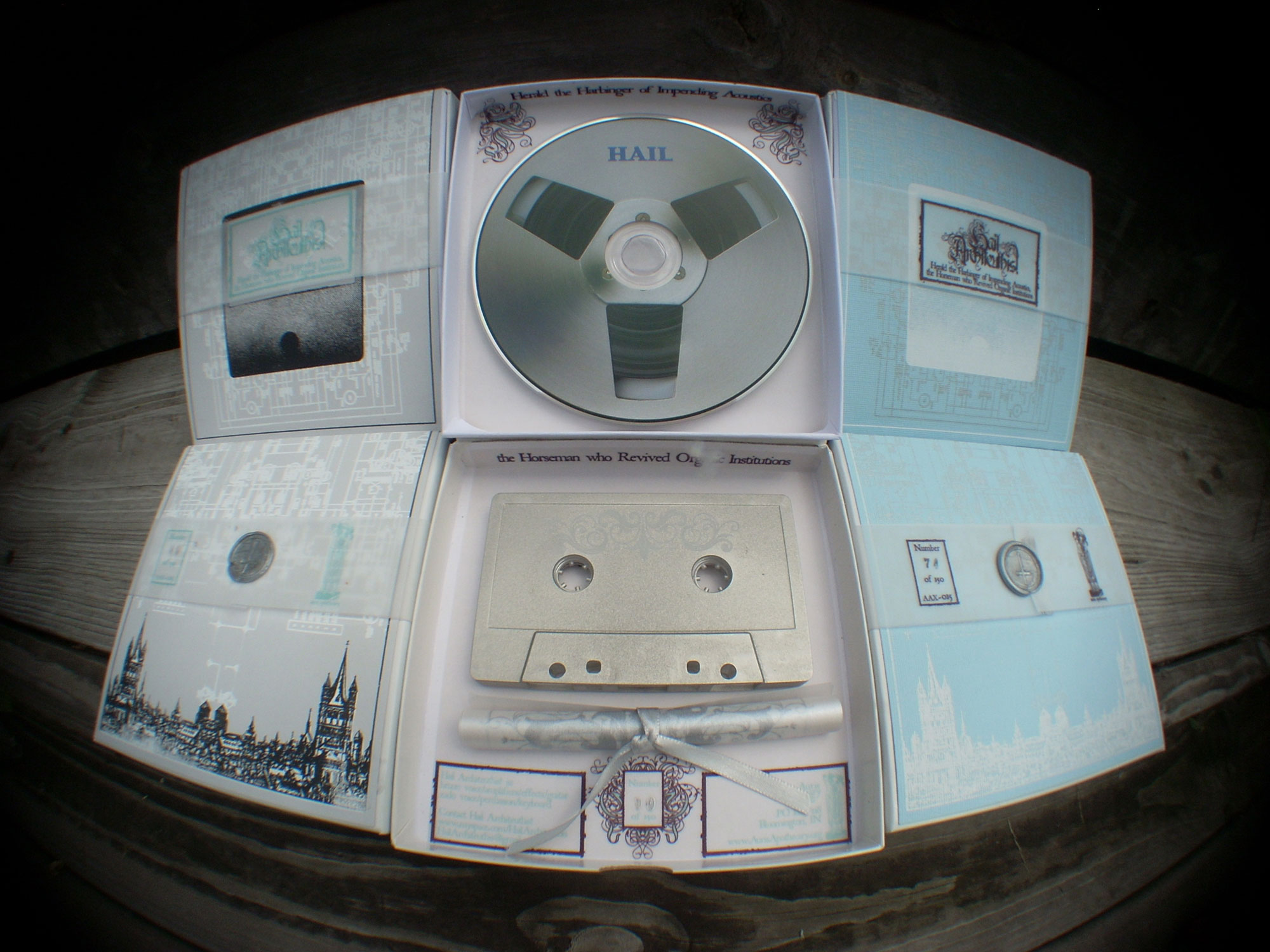 Herald the Harbinger of Impending Acoustics, the Horseman Who Revived Organic Institutions
---
Released April 20, 2010
sold-out
Info
An excruciatingly complex masterpiece of epic proportions, Herald the Harbinger... contains a timeless narrative of humanity's inability to overcome in times which demand great sacrifice, continuing the cycle of destruction and rebirth which nature has triumphed over throughout time. With a concept that parallels our modern synthetic society against that of ancient civilization, a storyline cohesive in all eras arises from the ashes of mankind's self-wrought tragedies.
Two albums worth of material on two appropriately chosen mediums present a high-fidelity compact disc recording of Hail Architeuthis! in their chaotic and crushing live format captured live to vintage 2-track 1/4" tape, the other a low-fidelity cassette which serves as a multi-dimensional cinematic soundtrack to the accompanying literature.
Packaging
Five inch white reel to reel box with 3 color black/white/silver silk-screened wrap on light-grey or ice blue cardstock. Professionally replicated & glass-mastered CD's with full color offset printing on the disc face. Brushed metallic nickel spray-painted cassette tapes with rubber-stamped artwork in white ink. Scroll inkjet-printed on silver vellum in 2 colors. 2-color inserts in base of each side of reel box printed on clear vellum. Vellum obi-wrap around box with blue or black inkjet printing; serial number stamped in silver silkscreen ink or black ink and sealed with a silver wax seal.
Tracklisting
Herald the Harbinger of Impending Acoustics [cd]
01 - 03:37 - Proclamations Designating the Birth of Innovation
02 - 06:52 - Recitations of Notable Seismograph Etchings
03 - 09:40 - Psalms Rejoicing the Salt Water Grave
04 - 04:17 - Harmony Triumvirate with the Devil
The Horseman who Revived Organic Institutions [cassette]
A1 - 03:00 - Prologue: Mors Humanitas
A2 - 03:00 - Air: Sporastic Tolling Bells
A3 - 03:00 - Earth: Impending Thunderous Roar
B1 - 03:00 - Sea: Subterranean Oceanic Cemetary
B2 - 03:00 - Void: Society's Infernal Holocaust
B3 - 03:00 - Epilogue: Renavatio Naturae
Audio