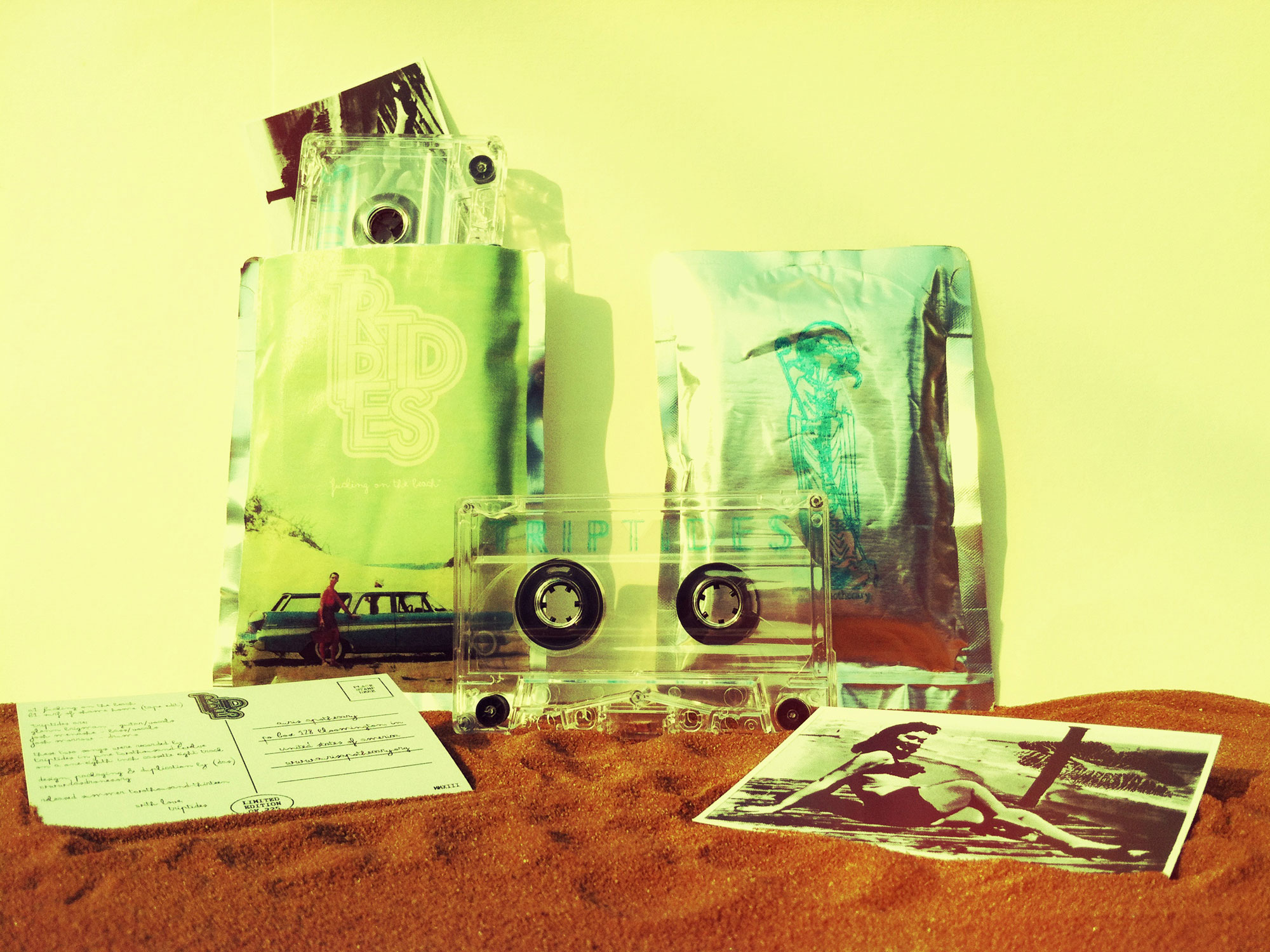 Fucking on the Beach
---
Released August 27, 2013
sold-out
Info
Bloomington, IN locals TRIPTIDES are no strangers to summertime jams and feel-good melodies, having spent the last 3 years self-releasing cassettes as well as high-profile releases on European labels STROLL ON RECORDS and CROQUE MACADAM. As an homage to their 60's beach-pop roots, Fucking on the Beach is a short & sweet cassingle chronicling the sex life of a dashing young surfer - attraction and rejection, flying high and swimming low. Recorded by the band entirely to 1/8" cassette 8-track, their trademark lo-fi sound is enhanced all the more by the vintage beachfront artwork attached to the upcycled Capri Sun pouch (a true artifact of summertime adventure). Coupled with the black & white mini postcard of a bodacious babe, Fucking on the Beach presents a vivid narrative of an everyman surfer trying to have a good time, in a simpler time.
Notice: Release contains download card which includes full-length edit of "Surf of Shame Home" as well as the tape edit version.
Packaging
Hand-cleaned Capri Sun juice pouches with full color sticker applied to front & hand-stamped Auris ram on back in teal ink. Transparent cassette shells with hand-stamped title in teal ink. Double-sided black/white inserts laser-printed onto silk-coated cardstock. Pouch sealed in clear plastic ziploc.
Tracklisting
A1 - 01:48 - Fucking on the Beach
B1 - 02:01 - Surf of Shame Home (tape edit)
Audio
Video