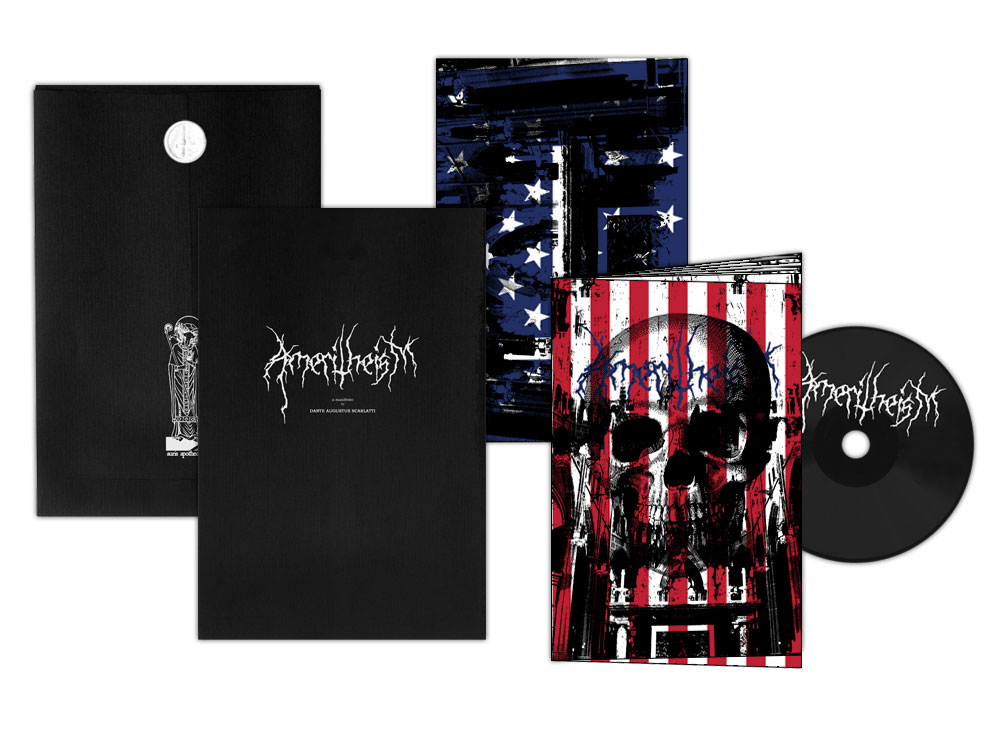 Info
Ameritheism is a hyper-digital, scathing analysis of the facade that is religion and politics in the modern American climate. Each of the 13 tracks, in precise 60 second intervals, take on single topics of mass significance with lyrics designed to strike right at the core of American political failures. Utilizing only a single guitar, a single microphone and a computer, each song was crafted by feeding drum triggering software the individual instrument and vocals tracks to spit out an overwhelming wall of chaotic percussion beneath the dense compositions of epic punk/metal/grind intensity with soapbox-esque megaphone declarations at the forefront. 
Inside the 50 page black/white zine is collage artwork, remixed propaganda posters, lyrics, and more.
Packaging
50 page b/w saddle-stitched zine with transparent overlay, housed inside black envelope with white hand stamped printing. Double black CDr with white hand-stamped printing. Envelope sealed in black wax.
Tracklisting
01 - 01:00 - Ameritheism (Part 1)
02 - 01:00 - Blackout
03 - 01:00 - 91% Disapproval
04 - 01:00 - Fed to the Lions
05 - 01:00 - Cosmetic Poultgery
06 - 01:00 - Drone Wars
07 - 01:00 - Natural Rejection
08 - 01:00 - Economic Alchemy
09 - 01:00 - 1460 Days of Sodom(y)
10 - 01:00 - This is a War, This is a War on Drugs. See the Difference?
11 - 01:00 - Coathanger Alternatives
12 - 01:00 - Hotbox the Ozone
13 - 01:00 - Ameritheism (Part 2)
Audio