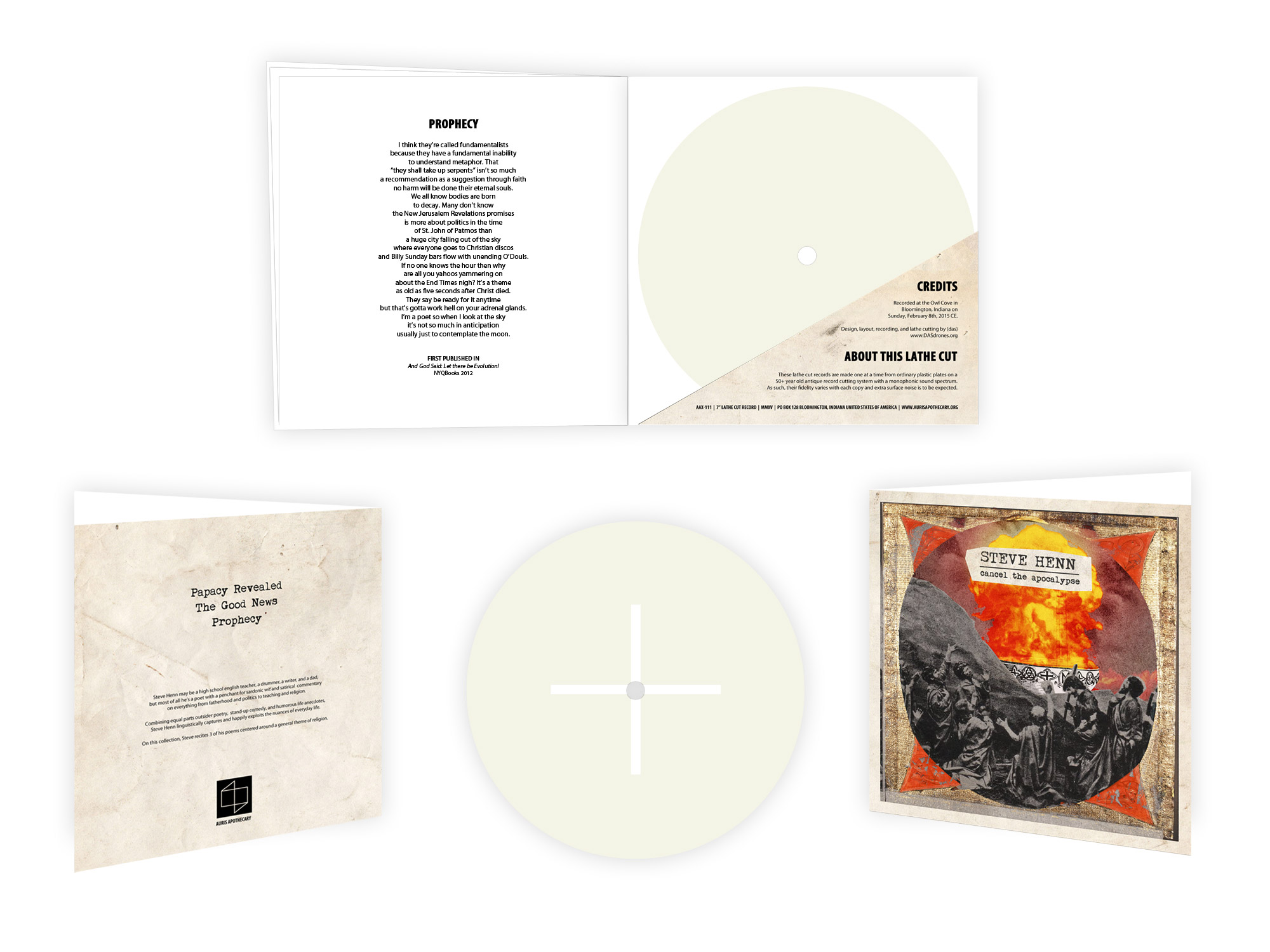 Info
Lo-fidelity spoken-word readings of poetry from Indiana high-school English teacher Steve Henn. Equal parts outsider poetry, stand-up comedy, and humorous life anecdotes, Steve Henn linguistically captures and happily exploits the nuances of everyday life. On this collection, Steve tackles the topic of religion through three short but poignant recitations that brazenly display his wit and candor while also offering genuine commentary in a thoughtful, honest light.
"Papacy Revealed" discusses the strange credentials of past and present Popes, while "The Good News" turns the tables on conventional Americana by presenting a mock door to door solicitation by Pagans asking for children to join the Wiccan Scouts. The set is finished off by "Prophecy," a reserved yet introspective piece about those who are preparing for the end times. Lathe cut in ultra lo-fidelity onto cream colored "communion wafer" plastic plates.
Notice: Due to the hand-made nature of lathe cut records, the fidelity & consistency of each copy will vary slightly. An assortment of audio ailments such as dropouts, warble, pitch-bending, static, crackle, hiss & extreme frequency shifting are to be expected, and all flaws which may arise are entirely condoned as adding cohesion to the release concept.
Packaging
- One-sided lathe cut 7″ cream plastic plate
- White "communion wafer" cross screen-printed on B-side
- 8-page heavy cardstock zine packaging housed in resealable poly bags
Tracklisting
A1 - 01:18 - Papacy Revealed
A2 - 01:32 - The Good News
A3 - 00:59 - Prophecy
Audio