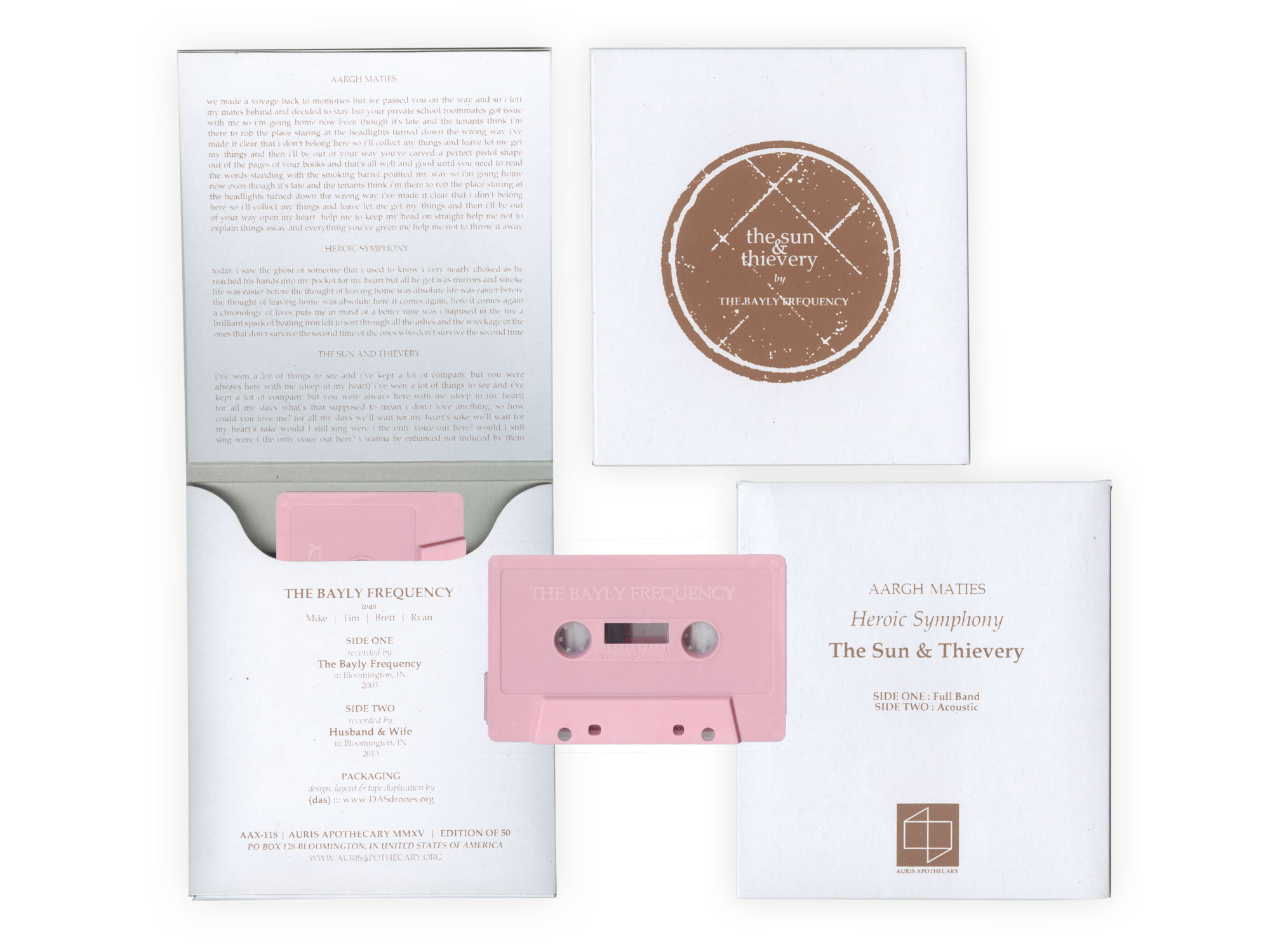 Info
Years before he lead a rock super-group (AT HIS HONEST WEIGHT) with a handful of LP releases on notable labels and a gushing press response across the nation, Mike Adams was part of the indie powerhouse HUSBAND & WIFE, a Bloomington, Indiana staple who took the Midwest and neighboring regions by storm. His uncanny gift for creating breathtaking and dramatic music is nearly incomprehensible, harnessing a sort of "Midas touch" with his varied assortment of projects.
Going back even further into the past, Mike Adams formed THE BAYLY FREQUENCY with Tim, Ryan, and Brett in their earliest years of college at Indiana University, a time of blossoming and unlimited potential. The aesthetic & sounds of the early Aught years is immediately evident on The Sun & Thievery - a minimalist 3-song demo of emotional and introspective emo with moments of jangly uplifting passages and delay-filled reservation. We have been listening to this demo for over a decade, and can't begin to explain the many memories we've created while this played in the background.
Jumping through the lineage yet again: a few years ago, HUSBAND & WIFE held a Kickstarter campaign for a new 7" of theirs, and one of the rewards was an acoustic cover of any H&W track the donor wished. Not one to miss an opportunity, we donated & then pulled some strings to convince Mike to cover the decade old THE BAYLY FREQUENCY song The Sun & Thievery. Unbeknownst to us at the time, he recorded that and the other 2 tracks from the original BAYLY FREQUENCY demo from 2003, and the B-side of this cassette contains those previously-unreleased, never before heard covers that showcase Mike Adams in one of his most intimate recordings.
So, to put this in perspective: this is cassette released in 2015, featuring a demo from 2003, with covers recorded in 2013, and a completely timeless message: Would I still sing, were I the only voice out here?
Packaging
- White/kraft chipboard gatefold CD sleeves
- Brown silkscreen printed art
- Light pink cassette with white hand-stamped titles
Tracklisting
A1 - 03:41 - The Bayly Frequency - Aargh Maties
A2 - 04:09 - The Bayly Frequency - Heroic Symphony
A3 - 03:56 - The Bayly Frequency - The Sun & Thievery
B1 - 04:13 - Husband & Wife - Aargh Maties (acoustic)
B2 - 04:02 - Husband & Wife - Heroic Symphony (acoustic)
B3 - 03:08 - Husband & Wife - The Sun & Thievery (acoustic)
Audio