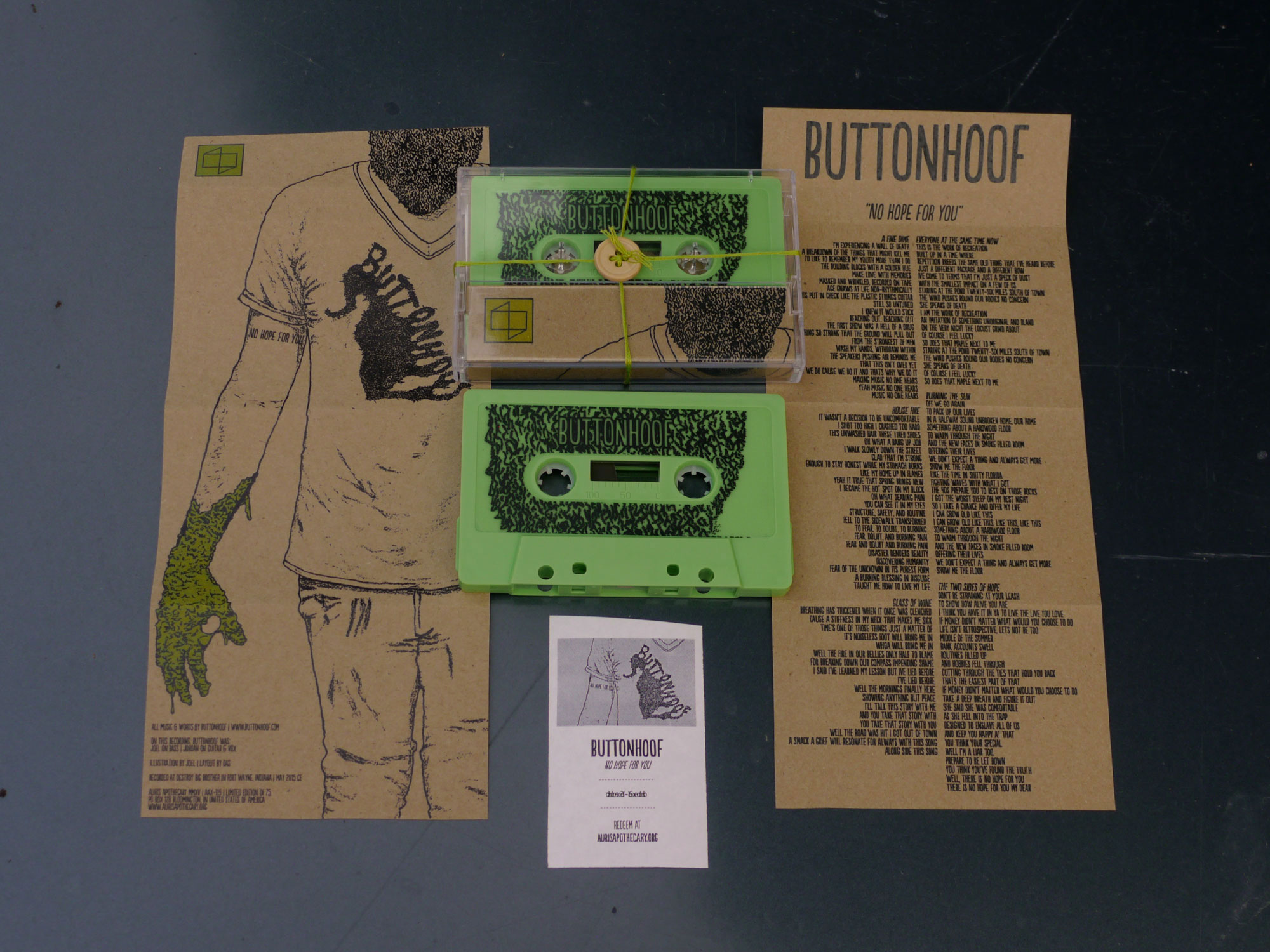 Info
Buttonhoof is a band that we've had quite an enduring relationship with despite having never officially worked with them on a release. It was formed by the Brothers' Henline, who, like our mutual friend Oreo Jones, we've known since elementary school. We've shared stages together over the past 15 years of playing in bands, and we've spent many a holiday in each others' company as we live only a few blocks away. To put it bluntly, Buttonhoof are some of our very good friends. So what do they sound like?
What began with an acoustic guitar and some song ideas by vocalist/guitarist Jordan, over the course of 2 EP's and a full length Buttonhoof formed into a 3-piece with stomping percussion, hints of trumpet, technically-impressive bass riffing, and a smoky, rough vocal delivery over folk-punk guitar progressions. They toured America in a van named Ronald, self-released all of their albums, printed their own shirts, and recorded dozens of unique music videos and live sessions. After a lineup change, Buttonhoof has returned to our personal favorite "version" of themselves - the Henline brothers as a duo performing all acoustically sans amplifiers, pedals, drums, and flair.
No Hope for You presents stripped down, somber acoustic folk with rough & tumble, almost western-esque passages, like Americana played on a dusty Victrola with 78rpm records projecting the voice of road-worn and world-weathered punks.
Artwork illustrated by bass player Joel.
Packaging
– Neon green cassette shell with black/clear labels
– 3 panel insert with artwork printed on thick brown paper
– Clear hardshell case
– Sealed with button & string
Tracklisting
A1/B1 – 06:25 – A Fine Dime
A2/B2 – 04:59 – House Fire
A3/B3 – 04:59 – Glass of Wine
A4/B4 – 04:59 – Everyone at the Same Time Now
A5/B5 – 04:59 – Burning the Sun
A6/B6 – 04:59 – The Two Sides of Hope
Audio
Video