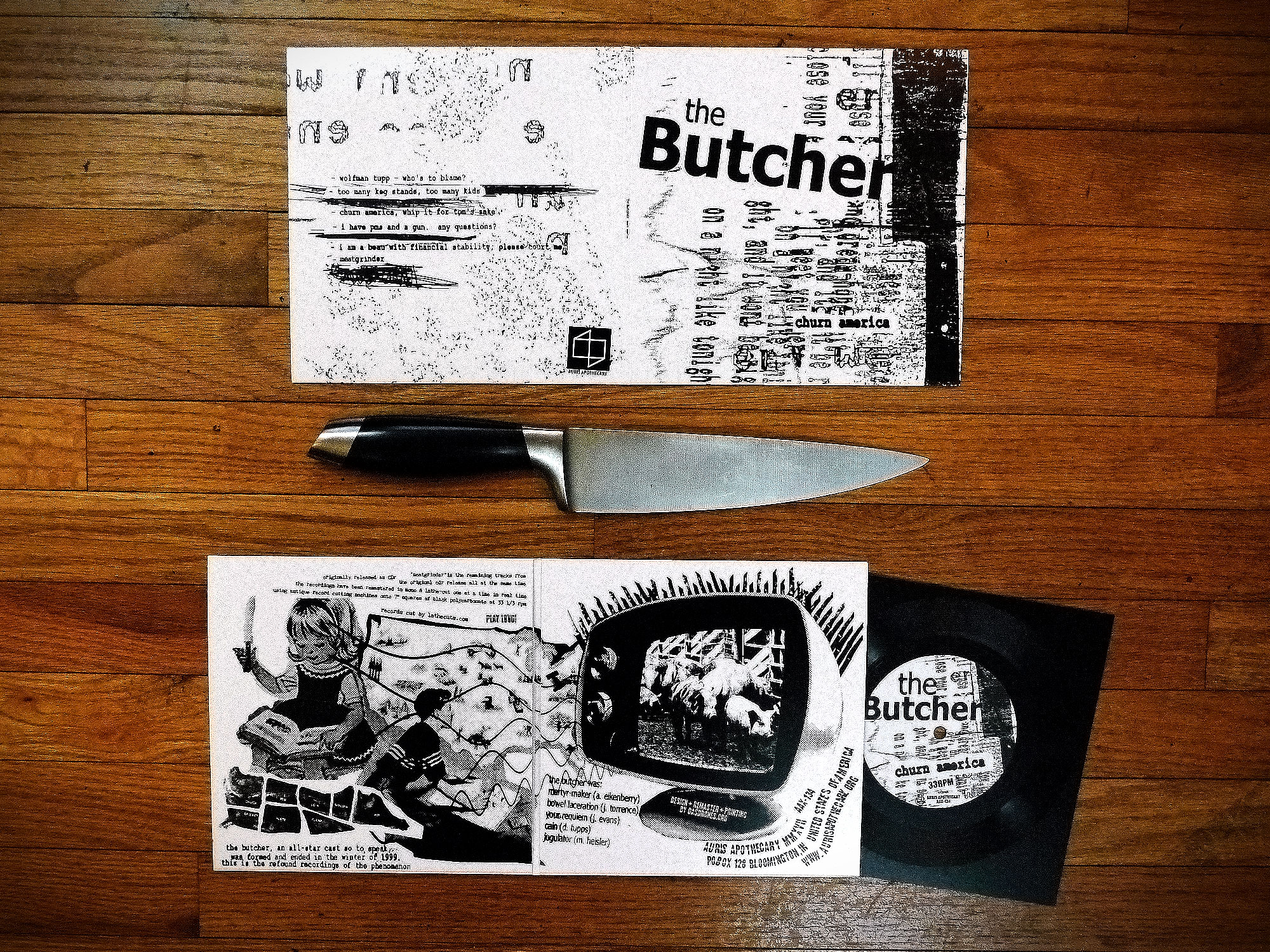 Info
A super short blast of ultra lo-fi carnival-esque grindcore from the Butcher, a side-project of Annabel Lee that formed, recorded, and disbanded in the Winter of 1999. Releasing only a single, poorly recorded "full length" of 12 songs clocking in at 6 minutes and 47 seconds, the Butcher was half tongue in cheek satire and half unfiltered aggression, performing a handful of shows donning aprons covered in blood and spitting out sub-minute tracks with titles like "Too Many Keg Stands, Too Many Kids" and "Lost: Husband and Dog. Last Seen Fishing. Award for Dog." The lack of musical complexity matches the shallowness of the track titles, but "Churn America" delivers on its mission of unadulterated outbursts that come and go in the span of a "normal" track's chorus.
Having listened to this recording for almost the entirety of its 18 year existence, we feel confident in our curatorial edits to the original CDr release, showcasing 5 of the original 12 tracks remastered as best as can be done for such low-quality source material, and featuring a sixth track titled "Meatgrinder" which is quite literally the remaining 7 tracks all played at once over the top of each other. "Churn America" has been cut onto jet-black polycarbonate squares and is housed inside screen-printed gatefold jackets with remixed artwork taken from the original paper CDr sleeve.
Notice: Due to the hand-made nature of lathe cut records, the fidelity & consistency of each copy will vary slightly. An assortment of audio ailments such as dropouts, warble, pitch-bending, static, crackle, hiss & extreme frequency shifting are to be expected, and all flaws which may arise are entirely condoned as adding cohesion to the release concept.
Packaging
- One-sided 7" square black polycarbonate lathe cut record
- White gatefold jackets with black screen-printed ink
- Black & white glossy labels
- Hand-numbered in black ink
Tracklisting
A1 - 00:38 - Wolfmann Tupp - Who's to Blame?
A2 - 00:16 - Too Many Keg Stands, Too Many Kids
A3 - 00:42 - Churn America, Whip It For Tom's Sake
A4 - 00:27 - I Have PMS and a Gun. Any Questions?
A5 - 00:37 - I Am A Beau with Financial Stability. Please Court Me.
A6 - 00:49 - Meatgrinder
Audio