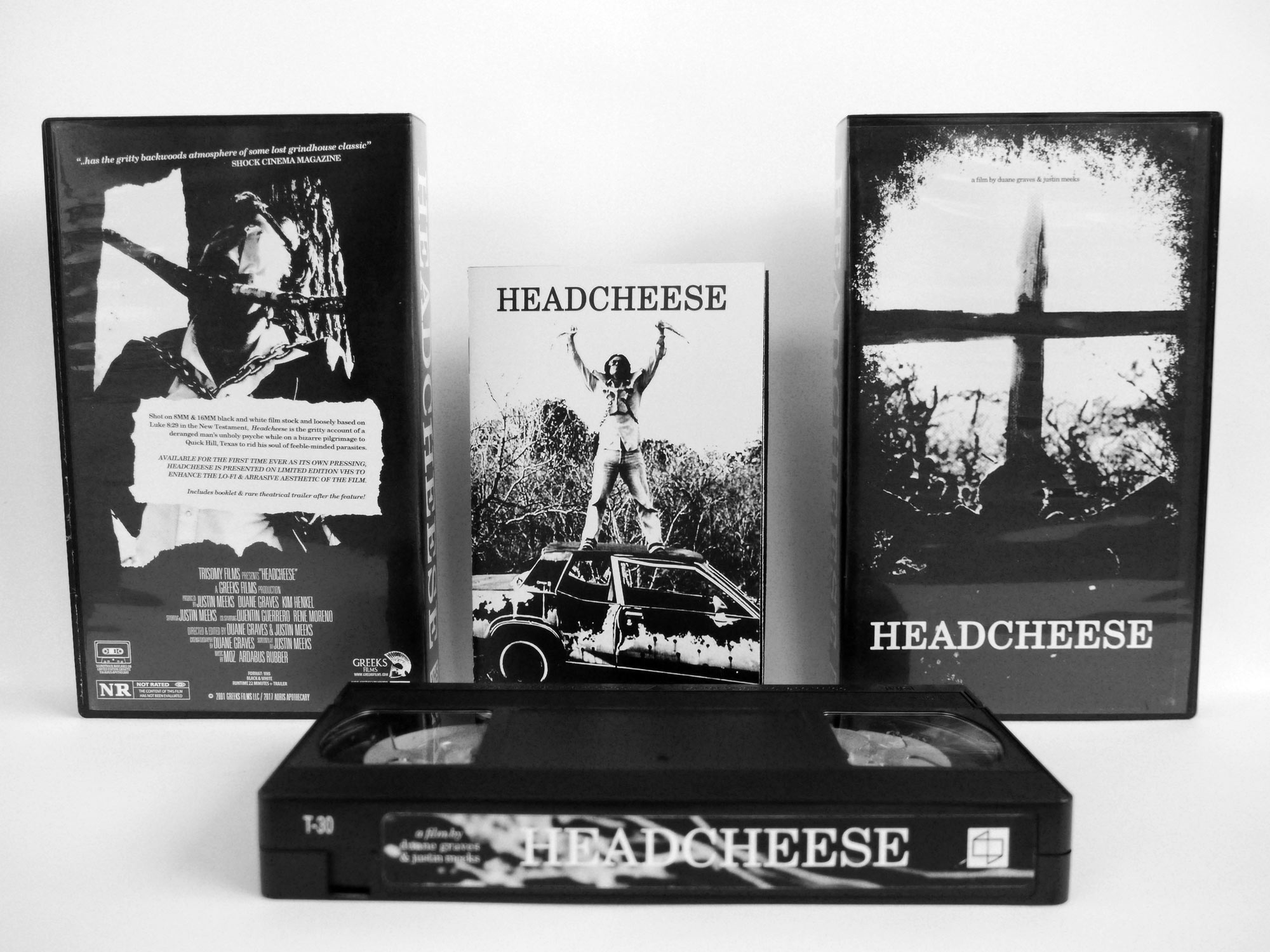 Headcheese
---
Released March 30, 2017
sold-out
Info
Shot on 8MM & 16MM black and white film stock and loosely based on Luke 8:29 in the New Testament, Headcheese is the gritty account of a deranged man's unholy psyche while on a bizarre pilgrimage to Quick Hill, Texas to rid his soul of feeble-minded parasites. Taking inspiration (as well as the original title) from the seminal 1974 movie Texas Chain Saw Massacre, Headcheese was filmed in and around locations of the famous horror film, featured as dilapidated ruins and vestiges of their former glory. Although not a horror film in the traditional sense, Headcheese follows a tortured killer's mental unravelings as he comes to grips with his inner demons, resulting in a hallucinatory short film that is as raw as it is bleak. With a pervasively harsh, noise-focused soundtrack to match the intense visual decay, Headcheese is a compelling, albeit experimental visual document of torment.
Duane Graves and Justin Meeks are Austin, Texas based filmmakers who kick-started their film career in 2001 with a trilogy of short b/w films, including Headcheese. After forming their own production company, Greeks Films, and catching the eye of Texas Chain Saw Massacre co-writer Kim Henkel (who has co-produced most of their work), the duo have directed & starred in a handful of independent feature films ranging from the eerie (The Wild Man of the Navidad), to the gruesome (Butcher Boys), as well as their newest western horror, Kill or Be Killed.
Originally released in 2001 as part of a Shock-O-Rama DVD pressing of the movie Freak, Headcheese is now available for the first time ever as its own pressing, presented on VHS to enhance the lo-fi & abrasive aesthetic of the film.
Packaging
– Black VHS tapes with b/w glossy double-sided sleeve insert
– Black hardshell cases
– 12 page b/w glossy booklet
Tracklisting
VIDEO - 21:57 - Headcheese
VIDEO - 00:30 - Headcheese [trailer]