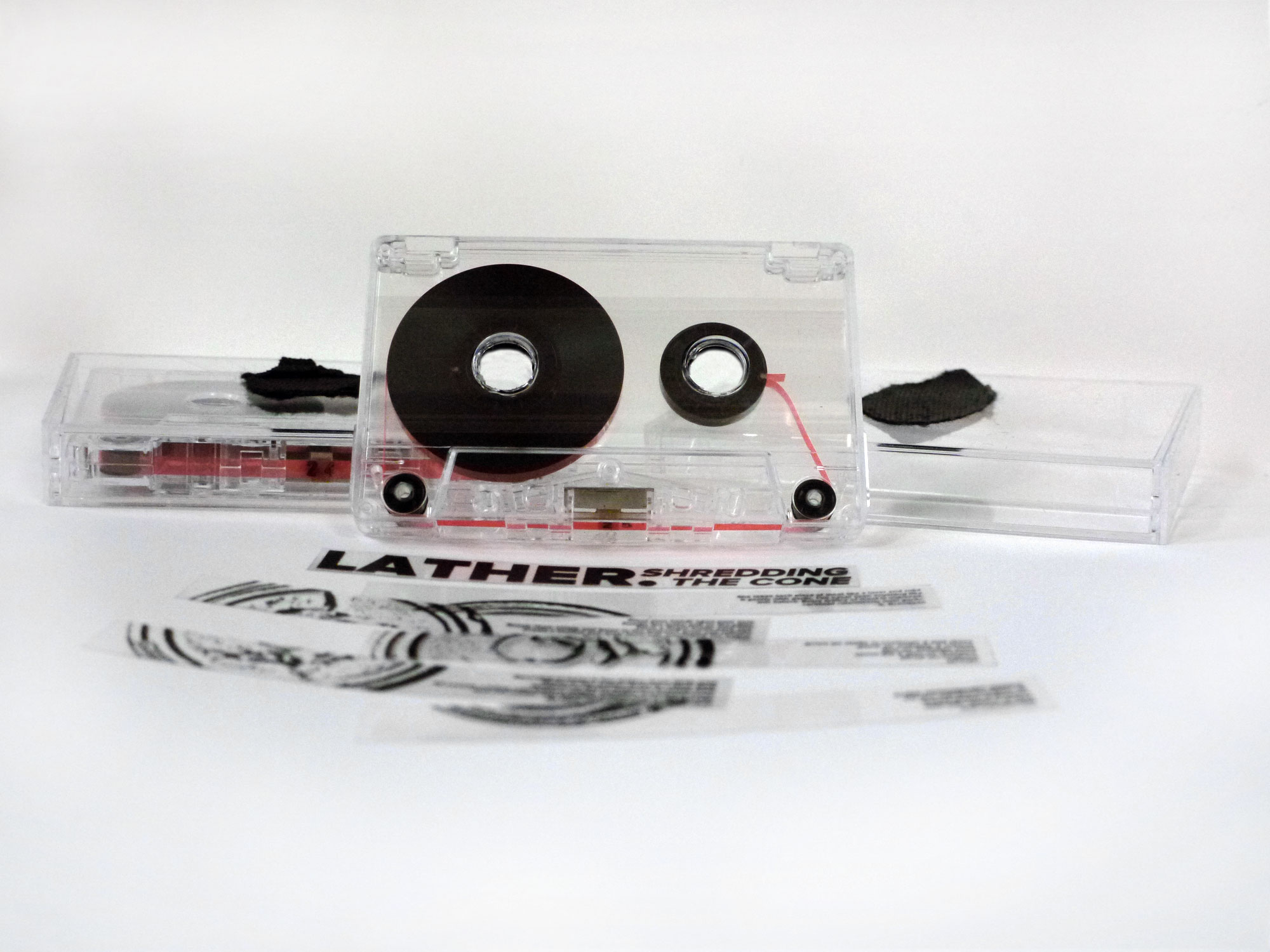 Shredding the Cone
---
Released March 03, 2017
sold-out
Info
In addition to being one of the longest standing Artifex Guild members, LATHER is one of the only people on Earth who we know for a fact has intimately worked with and played back the many anti-releases and obscure formats we've put out in the past. Thus, we were overjoyed when he agreed to work with us on a new anti-cassette project. Knowing his junk noise roots, we set out to craft an idea that bridged LATHER's physical performance destruction with his stripped down but harsh sensibilities.
On Shredding the Cone, LATHER constructs an abrasive cacophony void of any actual instruments or samples, instead evoking sounds through a heap of half-dead electronics and intricately interconnected wiring paths. At the core, an amplifier powers a rumbling signal of feedback that is distributed to multiple speakers of varying sizes and wattage handlings, each emitting pulses, drones, buzzing, and other atonal frequencies. In proper LATHER fashion, the resulting noise is channeled through sheets of distortion and performed for unrepentant lengths of time. Clocking in at a single 42½ minute track on the A side (and a reverse version on the flip side), Shredding the Cone is one of the longest cassettes we've ever released and admittedly tough material to endure.
Shredding the Cone stemmed from an idea put forth by LATHER to tamper with the spindles of the cassettes, concluding with the removal of the teeth to render playback altogether inconvenient. The alteration is distinctly elegant in its simplicity, and is further emphasized aesthetically by the use of hardshell cases that lack lugs. The package is completed by a piece of shredded speaker cone attached to the front of the case, a martyr in the creation of both the tones contained and a visual tribute to LATHER's obliterating ideals.
Packaging
– Transparent sonic-welded cassette with spindle teeth removed
– Clear hub-less hardshell cases with torn speaker piece attached to front
– 6x insert strips printed in black ink on transparency paper
– Serial number hand-stamped in black ink onto leader tape
Tracklisting
A1 - 42:26 - Shredding the Cone [forward]
B1 - 42:26 - Shredding the Cone [reverse]
Video