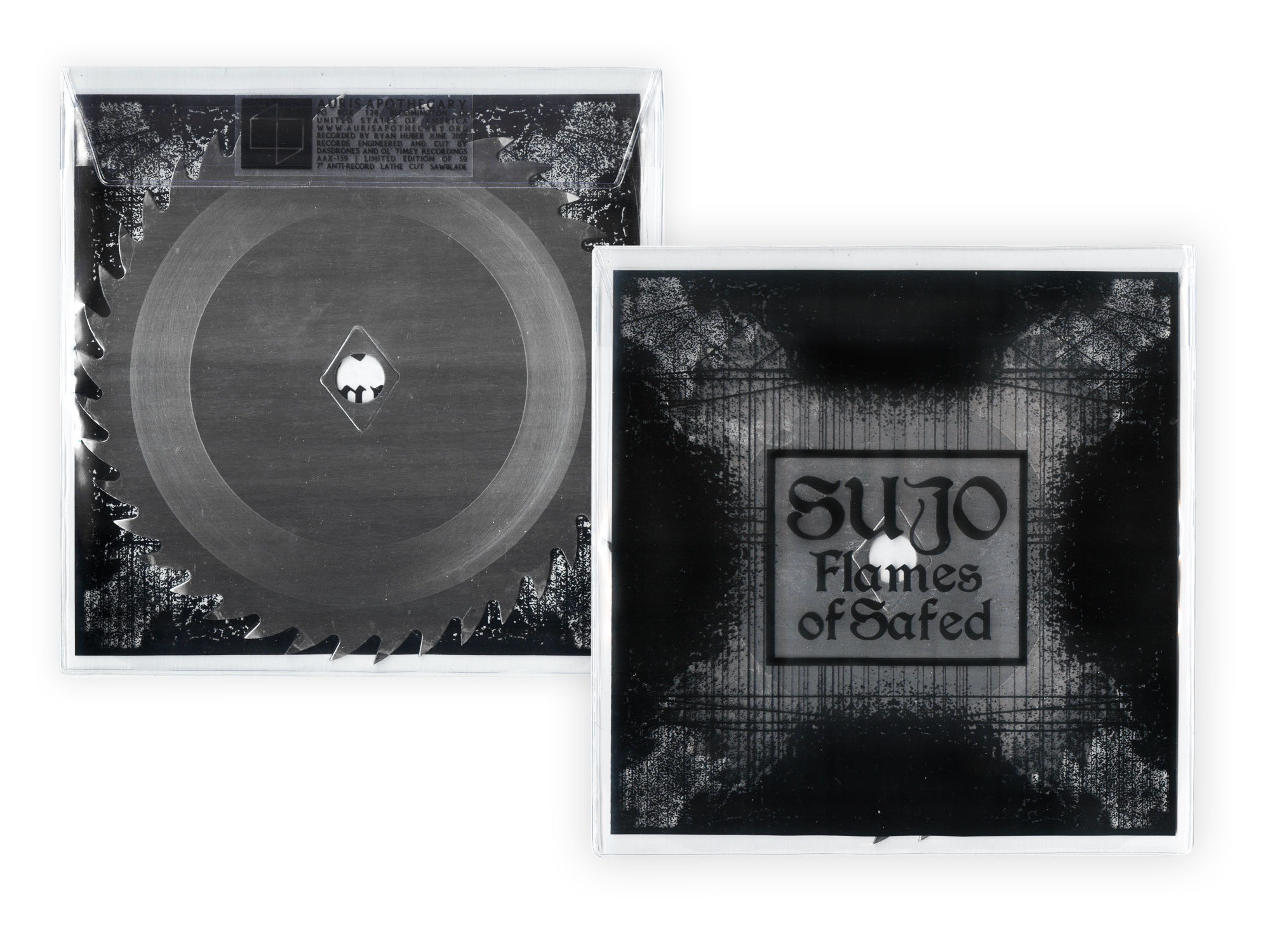 INFO
There are few in the harsh music world who haven't heard of SUJO, blackened metalgaze moniker of the insanely-prolific musician R. Huber. We were blessed in the past with the honor of releasing his dual-album opus Repent + Ondan, and we could think of no artist more fitting for the most metallic release we've ever concocted.
Flames of Safed is a 2-part release, the first of which is the digital-only single "Aanhra," a droning, melodious wall of dense tape saturation and reverb-drenched distorted guitar blooms. The physical counterpart features the title track - an absolutely blistering, high-intensity industrial anthem of deep sonic pulses, black metal guitar progressions, and a fidelity that is permanently overloading the system. As a literal manifestation of the extreme nature of SUJO's sound, Flames of Safed has been lathe-cut one at a time on an antique record cutter into 7" 40-tooth steel sawblades. The result is a distorted, cacophonous bastardization of the track, channeled through a reproduction system of pure metallic vibrations sliced into the surface of a sawblade.
In addition to its travesty of fidelity, Flames of Safed is the truest "anti-release" we've ever published for its complications with tracking, potential danger to both the user and equipment, and inability to be properly centered. The most destructive element, however, will be time. If improperly stored, each sawblade will almost assuredly begin to rust, slowly covering the surface until the grooves have been eaten away by oxidation, erasing the music forever. As with all of our anti-releases, this is not meant to be admired. It's meant to be experienced.
This release took countless hours of research and development, and while we have tested every copy on a turntable to check for transfer of the sound as well as tracking, we offer absolutely no guarantees of success of your individual system. We can however, offer some tips. If your arm is skating across the surface, add a tiny bit of weight to the top of the cartridge until the stylus settles in. For a slightly clearer playback, set your amplifier or input to "mono" instead of stereo. If the surface is slippery, wipe it down with a dry cloth. To prevent rust, keep it lubricated with grease or oil when you're finished listening. Keep it in a cool, dry place with as little moisture as possible. Listen to it as many times as you can before it's ruined.
PACKAGING
7¼" 40-tooth steel sawblade
16mm center hole
Clear picture disc sleeve with flap
Screen-printed cover art on front clear sticker
Screen-printed pressing info on back clear sticker
Serial number scratched into blade
TRACKLISTING
A1 – 03:27 – Aanhra [digital only]
X1 – 02:40 – Flames of Safed [anti-record only]
Audio