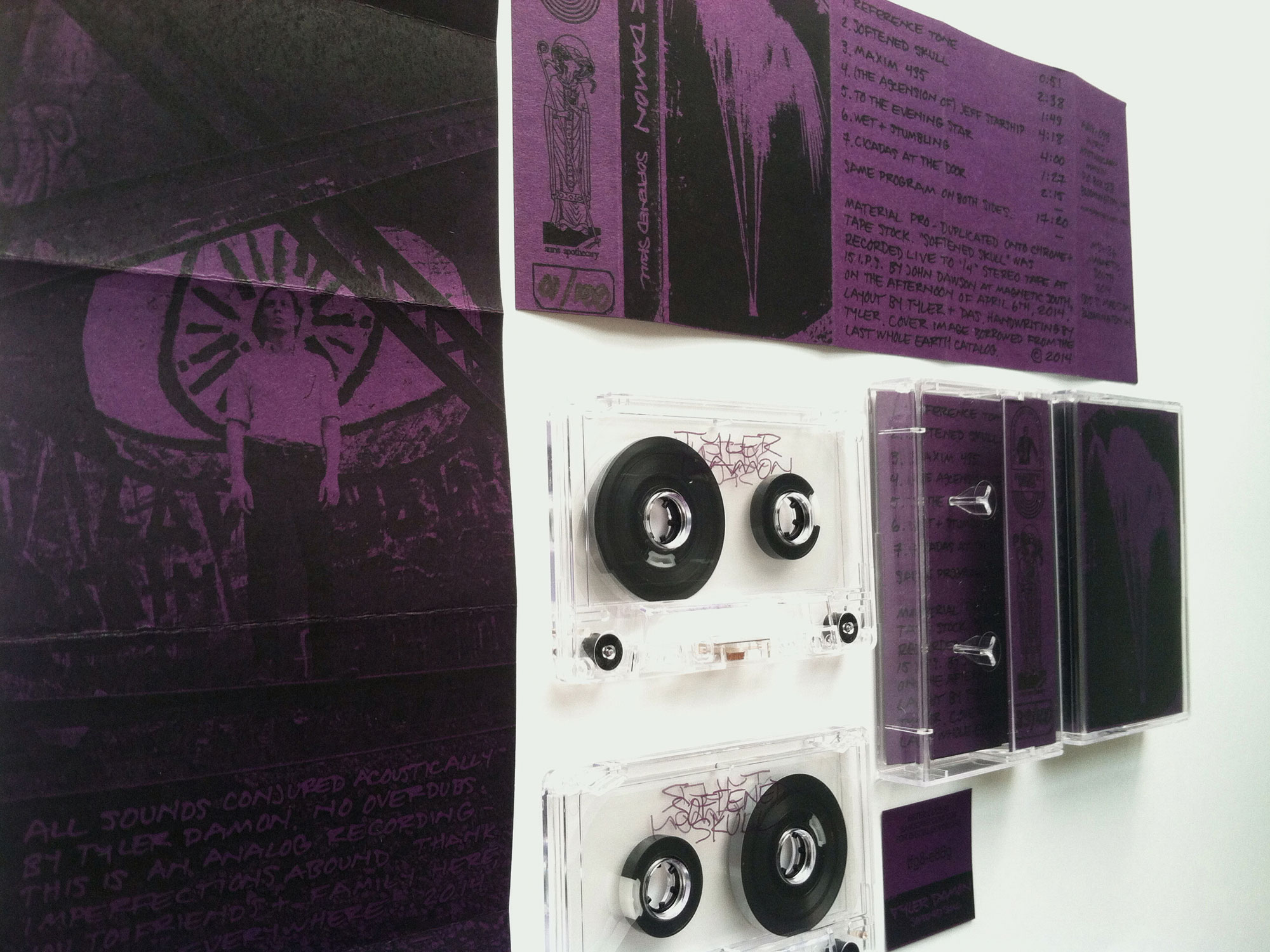 Softened Skull
---
Released June 01, 2014
sold-out
Info
In Bloomington, Indiana, there are few who are unfamiliar with the skills of TYLER DAMON. Having collaborated with the likes of Darin Gray, Mars Williams, and Little Howlin' Wolf, as well as extended runs in Thee Open Sex & Circuit Des Yeux, he holds the uncanny ability to morph between genres and musical eras effortlessly while simultaneously harnessing the spontaneity of improvisation. His solo work is a beast all its own, presented for the first time ever with Softened Skull, a totally analog recording captured live to 1/4" stereo tape at Magnetic South - no overdubs, no post-production magic. Over the course of 7 tracks, TYLER DAMON displays his prowess with ultra-minimal exercises in alternative percussion, covering a spectrum from free-jazz and avant-garde abstractions to grating dissonance and borderline junk-metal abuse. An extremely dramatic and dynamic affair.
This release is a collaboration with our friends MAGNETIC SOUTH.
Packaging
8-panel purple cardstock insert with double-sided black laserjet printing inside clear hardshell case. Transparent cassette shell with dark maroon imprinting, pro-duplicated onto chrome+ tape stock. Download card laser-printed onto same purple cardstock.
Tracklisting
A1/B1 - 00:51 - Reference Tone
A2/B2 - 02:38 - Softened Skull
A3/B3 - 01:49 - Maxim 435
A4/B4 - 04:18 - (The Ascension of) Jeff Starship
A5/B5 - 04:00 - To The Evening Star
A6/B6 - 01:27 - Wet + Stumbling
A6/B6 - 02:15 - Cicadas at the Door
Audio
Video