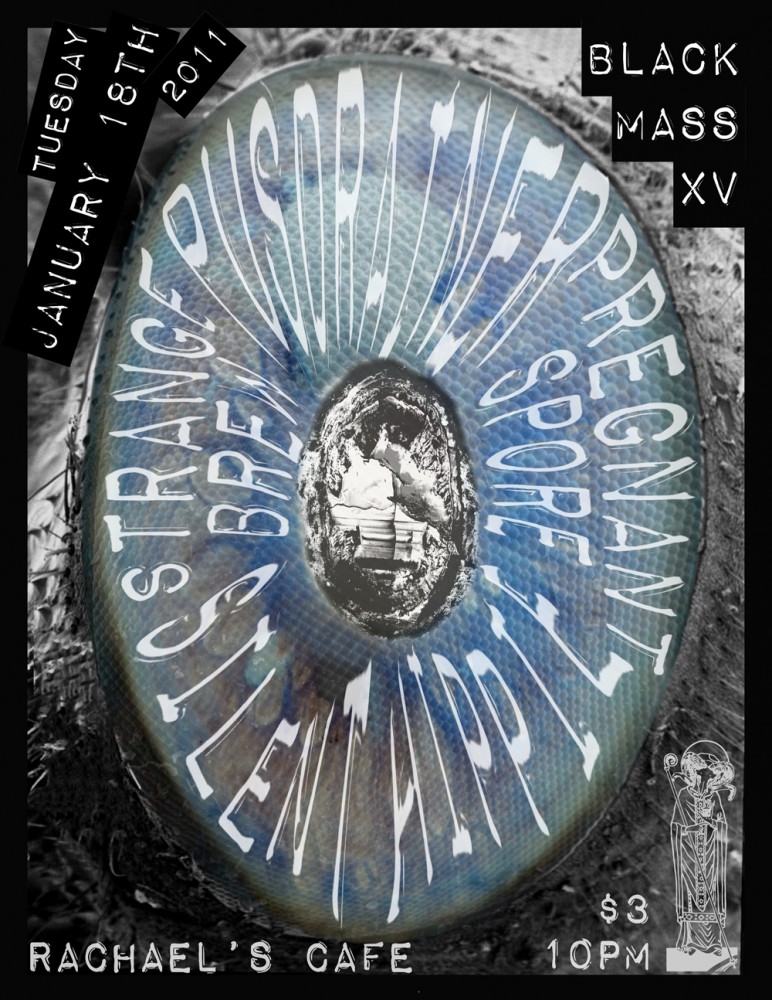 number: Black Mass XV
date: 2011.01.18
location: Bloomington, Indiana
venue: Rachael's Cafe
time: 10PM
cost: $3
type: Concert
year: 2011
Info
BLACK MASS returns for its 15th installment with an array of artists representing 4 states and 4 distinctly different variations on noisy mayhem. Featuring 3 touring artists converging in the Midwest, the showcase will present unique takes on the concept of freeform noise with a plethora of sound sources and manipulation techniques being implemented.
ALSO: The night is a release show for the FALSE FLAG 2x floppy disk album Lucre/Teeth, a harsh-noise-wall assault with power-electronics vocals questioning the role the federal government plays in the economy. FALSE FLAG is an alternate moniker of PREGNANT SPORE, serving as the central output for Justin Marc Lloyd's harshest and politically-charged music.
NOTE: Strange Brew dropped off and Diaphragmatic was added to much pleasure. Blackened ooze performance by Pusdrainer.
Artists
Silent Hippie [Bloomington, IN]
---------------------------------------
Slimy lo-fi garage punk.
blogspot: www.SilentHippie.blogspot.com

Pusdrainer [Cincinnati, OH]
---------------------------------------
Harsh power-electronics.
discogs: www.discogs.com/artist/Pusdrainer

Strange Brew [Ann Arbor, MI]
---------------------------------------
Solo female cassette-based noise.
myspace: www.myspace.com/StrangeBrewhour

Pregnant Spore [Baltimore, MD]
---------------------------------------
Solo modular synthesis with elements of drone, dark ambient, & ritualistic processions.
myspace: www.myspace.com/PregnantSpore