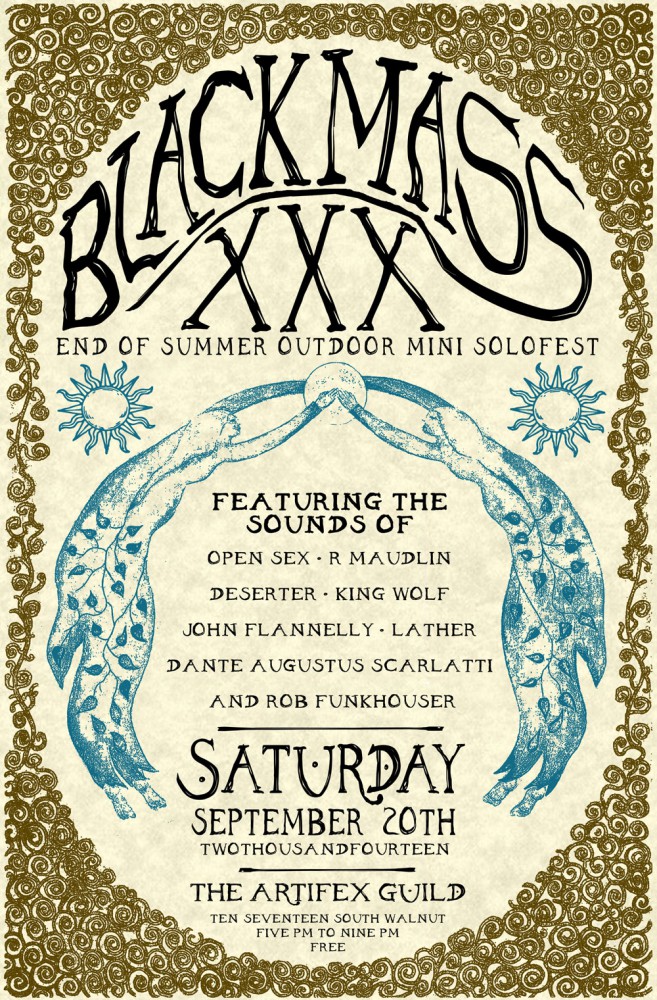 number: Black Mass XXX
date: 2014.09.20
location: Bloomington, Indiana
venue: the Artifex Guild
time: 5PM - 9PM
cost: FREE
type: Concert
year: 2014
Auris Apothecary is overjoyed to announce the return of Black Mass for its 30th installment, and we've upped the ante to make amends for taking the past few seasons off. We've dubbed this ultra-special event the "End of Summer Outdoor Mini Solofest," and it's exactly what it sounds like - a (slightly) massive lineup of solo artists from around the region, each performing their own interpretations of noisy bliss outdoors on the Artifex Guild porch.
The sets will be short and sweet, and the timeline will be moving accordingly, so make sure to show up on time in order to catch the many eclectic sounds that are sure to be emanating. We'll have plenty of bottled water on hand, as well as food & other homemade refreshments for any who desire them, but all are encouraged to BYOB/BYOD if you feel so inclined.
ARTIST LINEUP (in no particular order):
Open Sex [Bloomington, IN]
---------------------------------------
Tape drones & hypnotic pulses
bandcamp: http://theeopensex.bandcamp.com

Dante Augustus Scarlatti [Bloomington, IN]
---------------------------------------
Obsolete format manipulation
bandcamp: http://danteaugustusscarlatti.bandcamp.com
website: http://www.DASdrones.org

Deserter [Cincinnati, OH]
---------------------------------------
Emotive blues-driven electric guitar
bandcamp: http://aurisapothecary.bandcamp.com/album/aax-094-sister-cities

King Wolf [Bloomington, IN]
---------------------------------------
Guitar stomping rockabilly
website: http://www.kingwolfsoundsystem.com/

John Flannelly [Bloomington, IN]
---------------------------------------
Keyboard & effect pedal madness
website: http://www.johnflannelly.wordpress.com
bandcamp: http://www.johnflannelly.bandcamp.com

Rob Funkhouser [Indianapolis, IN]
---------------------------------------
Alternative percussion & thumb piano opuses
website: http://www.robfunkhouser.com
bandcamp: http://www.robfunkhouser.bandcamp.com

R. Maudlin [Bloomington, IN]
---------------------------------------
Somber female electric guitar lullabies
(none)

Lather. [Bloomington, IN]
---------------------------------------
Magical mystery noise
bandcamp: https://lather.bandcamp.com/