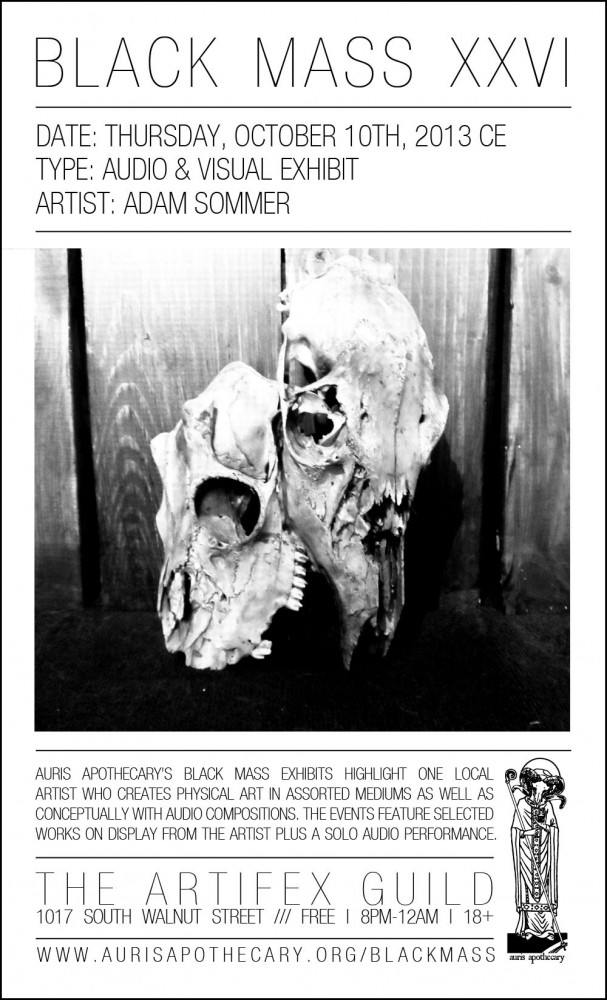 number: Black Mass XXVI
date: 2013.10.10
location: Bloomington, Indiana
venue: the Artifex Guild
time: 8PM - 12AM
cost: FREE
type: Exhibit
year: 2013
artist: Adam Sommer
title: Meta
Info
Auris Apothecary is excited to announce Black Mass XXVI, the premiere night of our newly-created monthly Audio/Visual Exhibits, a unique event format to be added to the Black Mass calendar. Each month, we'll highlight one local artist who works in both audio & visual mediums with a one-night-only exhibit of their tangible, physical creations as well as a solo audio performance representing an abstract manifestation.
We are honored to start the new tradition off with one of Auris Apothecary's good friends and close accomplices, ADAM SOMMER. The exhibit, titled "Meta," will feature multiple forms of artwork, from wall-hanging paintings to towering sculptures, each a representation of ADAM SOMMER's ominous aesthetic and creative output. At the midway point of the exhibit, he will perform a solo audio composition comprised of dual 8-track tape recorders evoking loops and drones of dark atmospheres.
Homemade consumables and alcoholic libations will be on hand, with a soundtrack provided by "6," the brand new CD by CHARNEL HOUSE which will be available for the first time at Black Mass XXVI. "6" was conceived, written, recorded, mixed, and mastered in two & a half months and features numerous local collaborators such as DREKKA, LATHER, and DANTE AUGUSTUS SCARLATTI in addition to new compositions by CHARNEL HOUSE for a total of over 70 minutes of sonic intensity. Packaged in a handmade wooden box, it is yet another form of ADAM SOMMER's artistic sensibilities.
about the artist
After a rich history as a multi-instrumentalist in blackened doom project OS and countless collaborations & pairings with untold numbers, ADAM SOMMER currently can be found behind the drum set of male/female duo CHARNEL HOUSE. He is also the founder and operator of SYGIL RECORDS, a boutique imprint specializing in high-quality limited editions of vinyl, cd, and cassettes, all of which have been produced, mixed, or recorded in some way by ADAM and his trademark fidelity. As an artist, his craft extends from surreal paintings of bleak subject matter to physically-intimidating sculptures erected from the bones of humane or natural death animal carcasses. With a consistently eerie aesthetic permeating his every creation, ADAM SOMMER is an artist whose work speaks from the darker side of nature in a dismal, hazy representation of reality.
Support ADAM SOMMER and his projects:
Record Label: Sygil Records /// www.SygilRecords.com
Band: Charnel House /// www.CharnelHouse.bandcamp.com