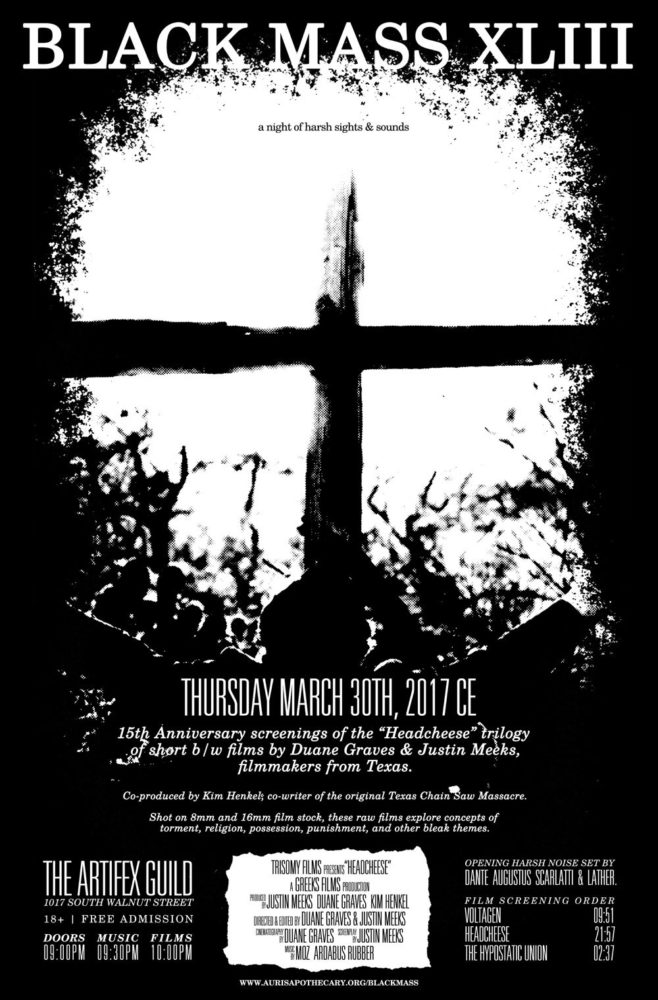 number: Black Mass XLIII
date: 2017.03.30
location: Bloomington, Indiana
venue: the Artifex Guild
time: 9PM
cost: FREE
type: Concert, Screening
year: 2017
Black Mass returns for its 43rd incarnation, featuring a night of harsh sights & sounds, opening with a collaborative performance by LATHER & DANTE AUGUSTUS SCARLATTI in honor of their new anti-cassette "Severed Circuits," which will be released the same night. "Severed Circuits" finds the duo of droning dissidents wailing on vintage A/V equipment with power tools and effects pedals, concocting an overwhelming composition of audio punishment.
Following the music will be a screening of 3 short films by Texas filmmakers Duane Graves and Justin Meeks. Filmed 15+ years ago using ancient black and white 8/16mm cameras and co-produced by Kim Henkel (writer of the original Texas Chain Saw Massacre), "Headcheese" and its associated trilogy is a bleak trip into the psyche of unhinged individuals, gravitating on themes such as possession, blasphemy, torture, and death. "Headcheese" is being released for the first time ever as its own official pressing, and copies will be available on limited edition VHS.
Lather. [Bloomington, IN]
—————————————
Solo junk noise sculptor of grinding, pervasive dissonance.
facebook: https://www.facebook.com/lathersound
bandcamp: http://www.lather.bandcamp.com/
Dante Augustus Scarlatti [Bloomington, IN]
—————————————
Solo composer of full-spectrum sound structures and complex tonal drones, ranging from abrasive harsh noise to esoteric, symphonic bliss.
facebook: https://www.facebook.com/danteaugustusscarlatti
bandcamp: http://www.danteaugustusscarlatti.bandcamp.com/
website: http://www.dasdrones.org/